+33 4 93 62 02 32
Contact Us :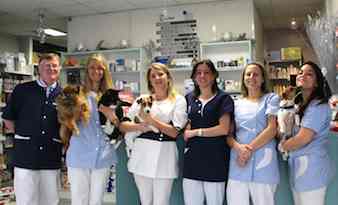 Nicea, a team at your service
Contact information
Clinique Vétérinaire Nicea
3 rue Gubernatis
06000 NICE
Phone : +33 4 93 62 02 32
Fax : +33 4 93 13 84 89
Contact us by e-mail
Opening hours
Monday to Friday from 9:00 am to 7:00 pm
Sturday from 9:00 am to 1:00 pm
Emergencies (outside office hours)
Phone : +33 4 93 62 02 32

Why Choose Us ?
Pets are now considered to be true life companions, regarded as family members in every way. Our wish is to bring to our patients the same kind of care we would dispense to our own animals.
a The management of pain and suffering is the priority of our entire team.
b Quality of care, respect of prices and fees as well as the right to information are also crucial to our policy. See our Policy
c Our specialised assistants are permanently at your service, by phone or directly in our practice to help and provide the best, personalised guidance possible.
Our Policy
Pain relief
Pain management and the welfare of the animals entrusted to us, are a priority for all the clinic's staff.
Quality of care
In order to offer high technical and professional standards we invest regularly in new equipment and on-going staff training.
Emergencies
We are committed to treating emergencies as a priority. Out of opening hours, phone numbers are available in the case of urgent need.
Respect of prices and fees
We undertake to prescribe appropriate products and treatments with discernment and always after prior consultation with the owners.
Advice and information :
We are at your disposal for any information regarding the health, hygiene, nutrition and education of your animal.