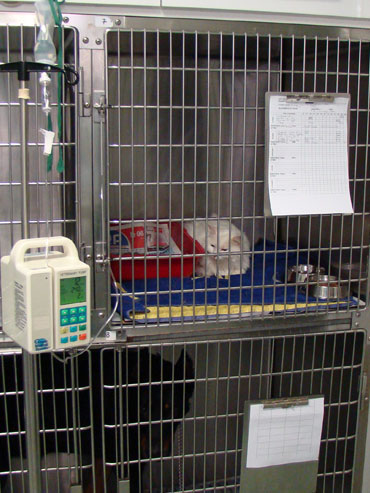 Hospitalization area
Designed to limit and relieve suffering of hospitalized animals, this space accommodates :
Animals in the post-operative wake up and recovery phase
Animals needing ambulatory examinations
Adjacent to the treatment room, the hospitalization area is under continuous supervision by a member of the medical staff for optimal patient care.
Our equipment ensures the best quality of care according to the patients' needs :
Cage heating
Mobile oxygen therapy equipment
Infusion pumps
Fully aware of the importance of the comfort of hopitalized patients, all the staff is actively involved in pain managment and continous monitoring.
Operating theatre
Access to the operating theatre is striclty reserved to the clinic's staff. Indeed, it is an area under the most rigorous rules of asepsis.
Besides the appropriate equipment specific to each surgical intervention, the operating theatre comprises all the modern devices enabling major opérations to be carried out in the best conditions of security for the patient :
Anasthetic machine
Cardio and respiratory monitoring for continous peri-operative supervision
All the equipment is mobile so that all surfaces can be kept scrupulously clean.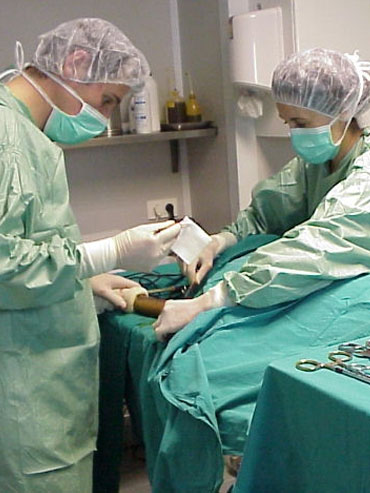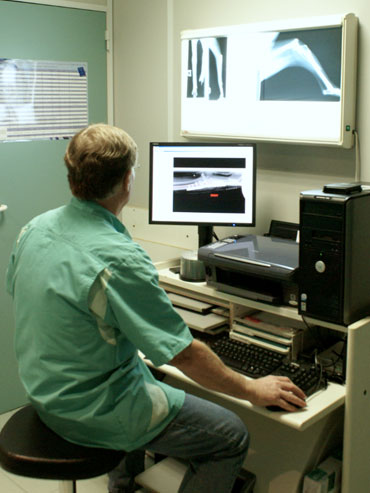 Radiology
Subject to specific legislation, the radiography room meets standard technical and administrative requirements as well as those applying to staff present during radiographic examinations.
Access to the radiology room is therefore regulated.
The clinic benefits from a modern digital radiographic system which brings several advantages :
Environment friendly due to the absence of development on films
Immediate and practical availability of the images under digital format (a CD is handed over to the owners instead of the old cumbersome films)
Great ease of Storage as the images can be saved in digital format.
Finally, for referred patients, the images can be e-mailed directly to the treating vet.
Complementary examinations
Modern veterinary medicine demands the on site availability of diagnostic devices formerly only available in specialist structures. Nicea clinic is able to offer to its clients :
Ultrasound (abdominal and cardiac)
Electrocardiography
Appropriate dermatological examinations
A laboratory unit enabling testing such as heamatology, biochemistry, urine analysis, fecal analysis and screening for infectious diseases
Results for the majority of these examinations are immediately available and of course benefit from the interpretation of the veterinary in charge.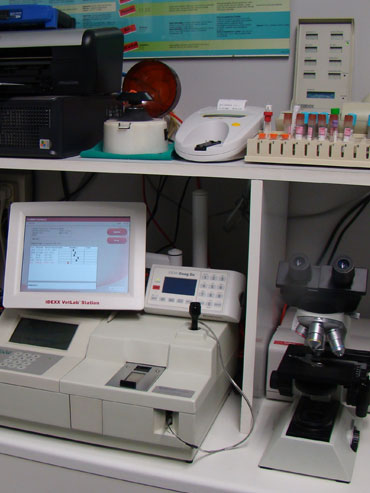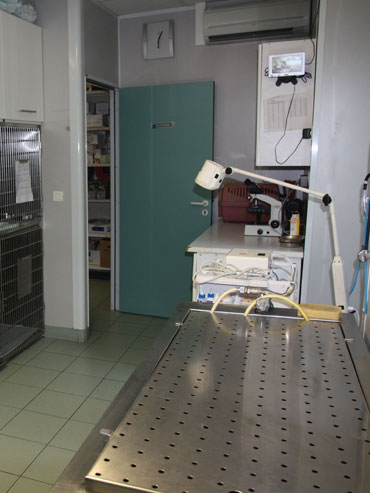 Treatment room
This is the busiest room in the clinic.
Principally reserved for light treatment (dressings, cleaning of wounds, claw cutting), it is also used in the preparation for more major surgery (clipping, disinfecting).
Dental interventions (tooth scaling) and surgical tratments classed as « dirty » (absess trimming) are also undergone in this room.
Its access is limited to the medical staff within the practice.
It is equipped with a shower point, a working table and the small equipment required for basic treatments (clipper, scissors, nail-cutter, stapler, scaler).
It is also used as a storage area for medical supplies such as swabs and dressings.
Reception area
This area is dedicated to advice, making of appointments, product and veterinary accessory sales, release of drugs, payment of services and fees and is also a pre-consultation waiting room, if necessary.
This area is above all somewhere for owners to chat with staff, ask questions and exchange information ;
A weighing machine is available so you can regularly monitor your pet's weight.
The clinic's staff are there to answer your questions and offer advice on hygiene, treatment of parasites, nutrition, education and generally any concerns regarding your animal's welfare.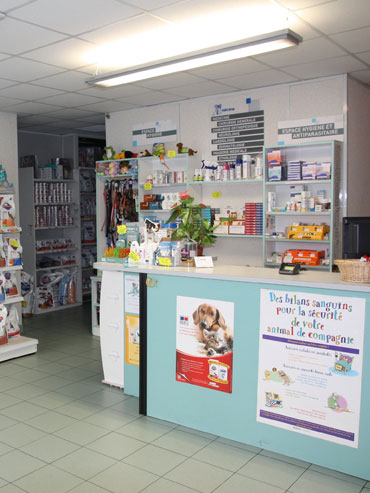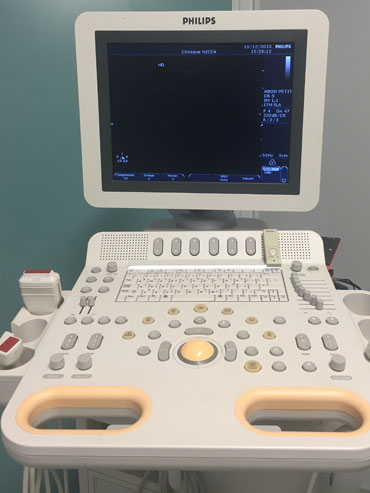 Echographe
L'échographie est un examen d'imagerie qui permet l'évaluation de la taille, de la forme, de l'aspect et de l'architecture de nombreux organes internes, en particulier intra abdominaux et cardiaque.
C'est un examen non invasif ni douloureux qui ne nécessite pas d'anesthésie (seule une légère sédation en cas de prélèvement ou d'animal peu coopératif) qui est donc sans risque.
C'est par ailleurs une excellente aide au diagnostic qui complète l'examen radiographique et permet une exploration plus approfondie et dynamique.
Elle peut être indiquée pour un diagnostic de gestation, afin de confirmer cette dernière et évaluer approximativement le nombre de fœtus et leur bon état de développement. Elle est également un outil de dépistage des maladies cardiaques congénitales ou acquises, des affections prostatiques ou testiculaires du chien mature, des déséquilibres hormonaux.
Comme tout examen, il a cependant ses limites et tout élément contenant du gaz (air) ou un minéral (os, calcul) bloque le passage des ultrasons et empêche l'exploration de certains organes (poumons, os) ou peut gêner la visualisation de certaines parties (air dans l'estomac ou les anses intestinales rend difficile leur évaluation dans certains cas, côtes et air des poumons minimisent la visualisation intra thoracique en dehors de la « fenêtre » cardiaque).
Il nécessite la tonte préalable obligatoire de la zone échographiée car les poils empêchent la transmission des ondes ultrasonores indispensables a la formation de l'image sur l'écran.
C'est également un examen dont la performance dépend des conditions dans lesquelles il est réalisé (l'animal doit être à jeun d'au moins 6 heures) et de l'expérience de celui qui le réalise. Aussi, pratiquée à la clinique Nicea depuis une dizaine d'année, nous n'hésiterons pas à vous orienter vers un centre spécialisé d'imagerie si notre expertise ne suffit pas à la prise en charge optimale de votre animal.
La clinique vétérinaire Nicea est équipée d'un échographe performant utilisé en médecine humaine, qui permet la réalisation des échographies les plus courantes (abdomen, cou, cardiaque, intra-thoracique).
Elle ne sera réalisée qu'après examen clinique de votre animal et si elle est indiquée.
Mesure de la Pression Artérielle
Mesurer la pression artérielle de nos carnivores domestiques est désormais accessible et considéré comme incontournable lors de leur bilan de santé.
Elle doit être systématisée car elle permet la détection précoce de certaines maladies.
Sa correction permet également d'éviter des lésions majeures sur des organes essentiels.